Ghost Light Bunker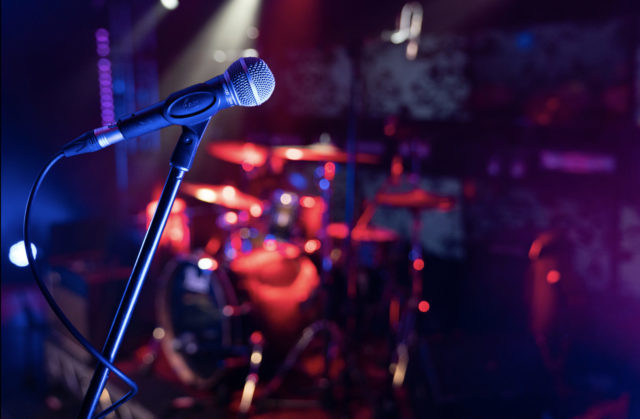 The Ghost Light Bunker is a temporary, purpose built streaming studio put together in response to the Covid-19 pandemic to provide a professional and cost effective online broadcast space for the live theatre and performance sector.

Including:
- 7m x 5m performance space
- Full audio rig for performance or band, including monitors
- Upstage LCD screen effect wall
- 5 camera vision rig (2 static, 3 fluid)
- 2 computer inputs
- Feedback monitor to stage for online comments
- All audio, lighting and vision operators

This venue is designed for performers, artists and presenters to continue their craft via an online platform. The space also allows technicians the space to maintain their livelihood throughout this time.


FAQ:
Q: This sounds expensive, am I right?
A: Not at all, for $500 (ex. GST) we offer a 3 hour session in the studio which includes setup, rehearsal, show and bump out as well as the sound, lighting and vision technicians. Additional hours are available for $150 (ex. GST)

Q: Wait, are you trying to profit from a disaster?
A: This is far from a revenue raising exercise for Mosaic Audio Visual. Our business, like many others have seen an enormous decline in revenue as COVID-19 ravages the entertainment industry.
This venue allows artists and technicians to continue their craft and present their work for the online audience in these changing times.

Q: Is this safe?
A: Safety is paramount. We disinfect all surfaces with hospital grade products before and after use. We disinfect all cables, stands, microphones and all other onsite equipment that is used within the Bunker. Additionally, microphones and stands are not shared and each performer has their allocated microphone for their three hour session. Working within the current social distancing and mass gathering guidelines for South Australia, we only allow 10 persons in the space.

Q: Is this "essential"?
A: To quote Scott Morrison, "Everyone who has a job in this economy is an essential worker...". We are keeping technicians employed during this time and this is a fantastic way to utilise not only their talents, but the talent of the Adelaide arts community.

Q: What does APRA have to say about this? Are you licensed?
A: APRA has confirmed that live-streamed performances are not required to be licensed during the pandemic. APRA have also indicated that performances are not to be recorded or re-broadcast at a later date. If this is required, another licence needs to be obtained. This is determined at the discretion of APRA, on a case by case basis.

Q: Sure, but as a performer how does this help me?
A: By live-streaming your performance to Facebook, Youtube or Instagram, you can keep existing fans engaged by providing entertainment in an otherwise empty environment. Live-streams are easily and often shared via social media to reach new audiences.

Q: Can I stream to multiple platforms? (Facebook, Youtube, Vimeo, Twitch, RTMP Platform)
A: We certainly can stream to multiple platforms. There is a small cost for this service as it is managed through third party software for which we own a license.

Q: Sounds great! But where does the money come from?
A: By utilising your charisma, our audience interaction screens and a "donate now" link, you encourage the viewers to donate amounts as set by you or an amount determined by the viewer.

Q: I'd much rather have the performance behind a paywall. Can you do that?
A: Sure can! Mosaic runs a Crowdcast site and can host the payment portal for you.

Q: We're playing original songs composed by the band. Do I still need a license from APRA
A: Nope.

Q: Can you show me exactly what a live show looks like or can I see the space?
A: Sure can - send us an email and we'll work something out.

Q: You didn't answer my question. I want to know something else.
A: No worries - email us at production@mosaicav.com.au