At Home Cinema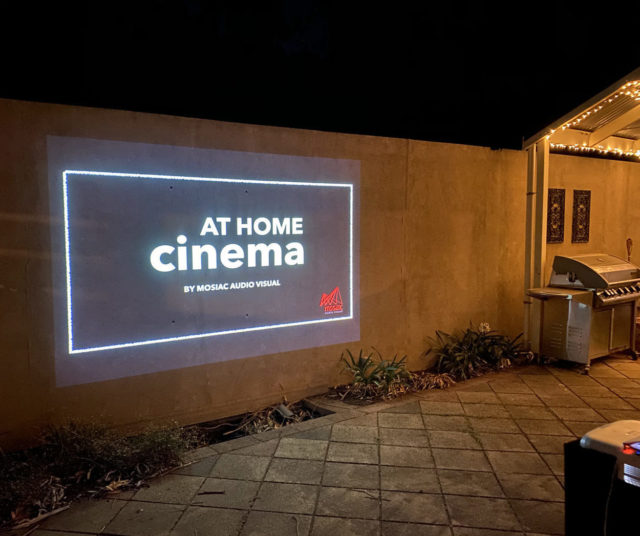 Stuck at home and don't want to leave?
Turn any flat surface into your own cinema!
Watch a movie on your favourite streaming service, play games on any console with an HDMI output or support your local team on the big screen.
We deliver an easy to install, At Home Cinema system to your door. Just connect the power and your HDMI device then point towards a flat blank wall.
The package includes:
- 1x HD projector;
- 1x 1000w speaker;
- All the cables and adaptors you'll need to connect to your favourite devices;
- Pre-set in an easy-to-move custom case;
- Detailed setup instructions; and
- Free delivery to the Adelaide metro area*
The price? Only $120.00 including GST (per 24 hour period)
* 15kms from CBD
15kms POA


Need a bit more? You might want to add these additions to your At Home Cinema package:
- Pull-up indoor screen: $20.00
- Inflatable outdoor screen: $80.00
- Setup/Strike labour $68.00 per hour
All prices inclusive of GST
Contact us at production@mosaicav.com.au to confirm your booking


Safety:
- We offer a contact-free delivery service straight to your front door. We don't mind if you're in your PJ's. No judgement!
- Your equipment has been pre-sanitised using hospital-grade disinfectants so that you can be sure of the safety of your family and friends.
- Glen 20 is used on all soft surfaces included in the package.
- Gloves are used during each stage of the cleaning and disinfectant process.
- Equipment is disassembled and sanitised after use using hospital-grade disinfectants after each use.



FAQ:
Q: I'm in quarantine, can I still use this service?
A: Yes, we offer a contact free delivery between yourself and our staff. Our safety procedures ensure you, your family and our staff are kept safe.

Q: I don't trust myself to set up the equipment, can you help?
A: Our after hours number is always monitored and we can talk you through any problems you may have.
Q: I want to have an At-Home Cinema, what next?
A: Great! Just call or email us and we'll send through an invoice and all required information. Full payment must be received before use and we will arrange delivery and collection times with you.
Q: What can I use this with?
A: Any device with a HDMI output!
Apple TV, most laptops (you may need your own adaptors) Xbox 1, Xbox 360, PS3, PS4, Nintendo Switch + more. Ask us if you're unsure.

Q: I don't have a flat blank surface, can I still be involved?
A: You sure can! We have both indoor and outdoor options for projection surfaces. Indoor: we can add a 5 foot pull-up screen to the hire, simply extend the supports and raise the screen. Outdoor: a 3m, inflatable outdoor screen can be delivered and set up in your yard. It has a fan to hold inflation and pegs into the ground much like a tent.